Kolhapur is a city which is located in the Indian state of Maharashtra along the banks of river Panchanganga. The city of Kolhapur is renowned for its places of worship such as Mahalakshmi Temple and palaces like Bhavani mandap. Now let us discuss about some of the must visit temples in the city of Kolhapur.
Mahalakshmi Temple | Image Resource : epuja.co.in
1. Mahalakshmi Temple : –
Mahalakshmi Temple which is located along the banks of river Panchanganga is believed to be one of the six abodes of strength. Pilgrims as well the local residents often visit this shrine to offer prayers and seek blessings from Goddess Mahalakshmi. It is one of the major places of worship in Maharashtra.
It was constructed in 634 A.D. by King Karnadev who belongs to the Chalukya Dynasty. It is the only place where one can attain salvation and his wishes are fulfilled.
2. Jyotiba Temple : –
Jyotiba Temple which is located at a height of about three thousand one hundred feet is sometimes referred to as the 'Wadi Ratnagiri'. Jyotiba seems to be an embodiment of three gods namely Brahma, Vishnu and Mahesh. This shrine is also the primary venue for hosting colorful fair during the months of Chaitra and Vaishakh on a full moon day. It is during this period of time, the devotees across various places raise the Holy symbol of Lord Jyotiba named 'Sasan Kathi'.
3. Narsobawadi : –
Narsobawadi is a pilgrimage center and a small town which is located along the banks of rivers Krishna and Panchanganga. It is quite popular for its holy slippers that belong to Dattaguru. It is one of the frequented pilgrim spots by Shri Dattatreya devotees.
This small town houses the famous shrine of Shri Narasimha Saraswati. Shri Dattatreya who took the form of Narasimha Saraswati resided in this spot for about twelve years.
Bahubali Hill Temple | Image Resource : holidaylandmark.com
4. Bahubali Hill Temple : –
Bahubali Hill Temple which is located twenty seven kilometers away from the heart of the city is nestled on the Bahubali Hills. It houses a twenty eight feet massive marble statue of Lord Bahubali. A large number of devotees frequently visit this temple to seek blessings of Lord Bahubali. This shrine also hosts a fair which is observed on the fifteenth day of the month of Kartak. The tourists can board a train from Hathkalangad Railway Station in order to get to this place. They can also hire bus and private vehicles.
5. Gagangiri Maharaj Math Temple in Kolhapur : –
Gagangiri Maharaj Math Temple is the holy abode of Gagangiri Maharaj. It is a popular pilgrimage center amongst the Indian as well as the foreign tourists. This shrine is located in the midst of lush green surroundings and dense forests.
They also conduct yoga and meditation practices on a regular basis. It is an amazing spot to get an insight about the Indian culture.
6. Kopeshwar Temple : –
Kopeshwar Temple which is located at Khidrapur in Kolhapur district is dedicated to Holy Deity Lord Shiva. It was constructed around nine hundred years ago.
No visit to Kolhapur would be complete without paying a visit to some of the above mentioned places of worship in Kolhapur.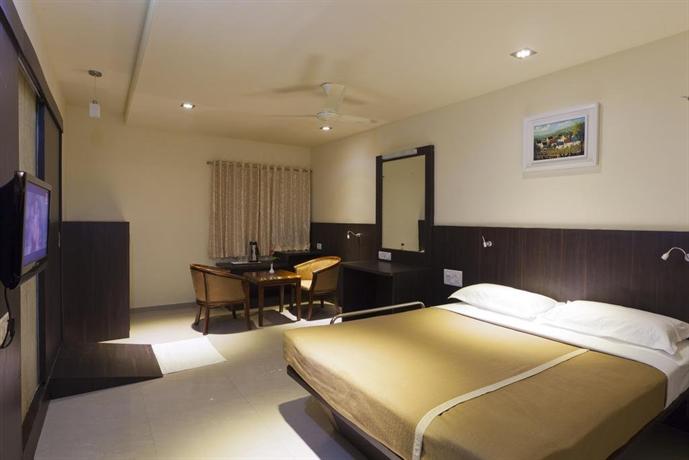 Hotel Atria Kolhapur | Image Resource : datahc.com
For those who are scouting around the city of Kolhapur for a two star hotel may proceed to Hotel Atria Kolhapur. It is an ideal destination spot for both business as well as leisure travelers. They offer top notch customer service.
This hotel consists of plush interiors, exteriors combined with vibrant atmosphere and amazing city views. The visitors can make use of all the basic facilities provided by the hotel such as conference hall, roof top dining areas and lounge.
It houses a multi-cuisine restaurant which serves a myriad of dishes. Other amenities offered by this place include Wi-Fi connectivity, twenty hour travel desk, pick up and drop facilities, complimentary breakfast and surveillance camera systems.